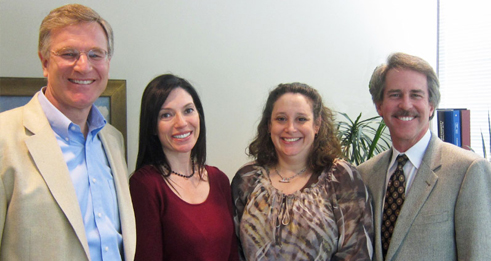 Services Offered At Frederick Psychology Center include:
Depression and Bipolar Disorders

School Consultation
---
Individual Therapy
In individual psychotherapy you and your therapist explore in a confidential, trusting relationship the issues and concerns that are troubling you. You will have the chance to review how your situation developed and to discuss the meaning of those issues in your life. Together with your therapist you will set goals for your treatment and work together to re-establish a life that feels more fulfilling and more effective. Individual therapy is helpful for a range of issues such as anxiety, depression, relationship problems, and abuse or trauma. Sometimes family or marital situations are the focus of discussion but occasionally individuals are referred for separate marital counseling or family therapy. Such decisions are always made together with you.  The length of treatment varies from a few sessions to longer, and typically sessions occur weekly. At Frederick Psychology Center the goal of individual counseling is always to help you reach your fullest potential.
*****
Couples Therapy
Couples come to therapy with concerns such as communication difficulties, ongoing conflict, decreasing intimacy, lack of trust, and doubts about the future of their relationship. The therapist begins by listening closely to each person's unique perspective, then connects with each person while establishing a neutral, non-judgmental position. The therapist's office becomes a safe place where couples express their concerns with the understanding that issues will be handled constructively. Many therapeutic tools help couples decrease conflict and achieve greater harmony. As with all change, the process begins with insight about oneself, then proceeds to discovering new ways of relating as a couple. Couples therapy is focused on achieving goals that are mutually agreed upon by the couple. The approach emphasizes problem-solving and solutions over the re-telling of concerns. Though there are too many factors to guarantee a successful outcome, most couples benefit from the therapy process.
Family Therapy
Family therapy is an effective and popular form of therapy that helps families address problems in the family system. Issues such as anger control or child behavior problems are commonly addressed, but other situations can be discussed as well. These may include parental expectations, rules and boundaries, alcohol or drug abuse, sibling rivalry, attachment, adoption, and step-family issues. Certainly parental conflict and domestic violence are sometimes the focus of the family therapy. Often younger parents consult us for assistance because of concerns about their young children. We work directly with the parent-child relationship in such cases, even working with parents together with their infant children or toddlers. Frequently a family therapist will recommend individual therapy for a family member so that particular issues can be addressed in a more confidential setting. As always such a recommendation is made in concert with the individual or the parents directly.
Individual Child Therapy
Children benefit from individual therapy just as adults do. While play may be incorporated into therapy sessions, individual therapy with children is distinct from "play therapy," which is discussed below.  Individual sessions involve discussion between the therapist and the child as well as development and practice of problem-solving and coping skills.  Parents are often included in occasional sessions and usually meet privately with the therapist on a regular basis to discuss their child's progress and any concerns they may have.
Despite parental involvement in their child's therapy, confidentiality between child and therapist is an important aspect of most therapeutic relationships.  Usually, specific details regarding what the child has shared with the therapist are kept private unless the child feels comfortable sharing the information with parents.  Exceptions to this general "rule" include situations in which the therapist believes the child is in danger of hurting him/herself or being hurt.  In all cases, the therapist strives to involve parents at a level that is most productive in improving the child's relationships, functioning, and self-esteem.
Play Therapy
Play therapy is a specialized form of individual therapy for younger children. Children as young as three years old can benefit from this dynamic and creative form of therapy. Issues relating to separation, trauma or abuse, break-up of the family, or developmental problems can be addressed in play therapy. Certainly depression and anxiety can also be treated. Of course, toys and play are the main focus for the child and therapist as they work to improve the child's growth potential and to re-establish a healthy developmental course. Parents may sometimes be included in the sessions, but more commonly parents meet separately with the therapist to review their child's progress and to discuss parental concerns or other adult issues.
Psychoeducational / Learning Disability Evaluations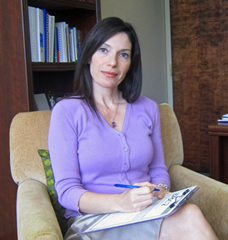 A psychoeducational evaluation (also referred to as a learning evaluation or learning disability evaluation) is a comprehensive assessment of a child or adult's cognitive, academic, and psychosocial functioning.  This type of evaluation provides a wealth of information about the individual's intellectual strengths and weaknesses, visual and auditory processing, academic strengths and needs, and any behavioral or emotional issues that may be interfering with academic functioning.
As a result of such an evaluation, an individual may be diagnosed with a learning disability, intellectual/developmental delay, or emotional/behavioral disorder.  "Giftedness" may also be identified.  Once a diagnosis is established and strengths and needs are understood, individualized recommendations can be made to help the individual access academic curricula more effectively. Recommendations for remediation may also be offered. Results of the evaluation are provided in the form of a written report and an in-depth feedback session with parents and, when appropriate, the child who was evaluated.  Psychologists at FPC offer follow-up consultation with schools to advocate for children's academic needs and to aid in the implementation of recommendations.
AD/HD Evaluations
Attention Deficit/Hyperactivity Disorder (AD/HD) is a commonly misunderstood and misdiagnosed disorder that affects both children and adults.  Comprehensive evaluation of "executive functioning" (see Links page for more information) is imperative for proper diagnosis. 
The most in-depth AD/HD evaluation offered at FPC includes: extensive investigation of background and developmental history; consultation with teachers (for child evaluations) and/or other important individuals in the clients' life; computerized evaluation of focus and distractibility; screening for learning disabilities (which often co-occur in individuals with AD/HD);  exploration of emotional and/or behavioral symptoms that may mimic or co-occur with AD/HD symptoms; and the use of both testing and behavioral surveys to measure executive functioning.  The comprehensive evaluation also includes a detailed written report and individualized recommendations, as well as a feedback session in which results of the evaluation are reviewed with parents and, when appropriate, children. 
Less comprehensive options, including an evaluation without a written report, may be provided at the discretion of the psychologist.
Forensic Psychology
Frederick Psychology Center offers a range of high quality services in the area of forensic psychology. Services include consultation, evaluation, and treatment in situations that are part of a legal context. The most common involve the following:
Parenting Evaluations are court-ordered and involve the assessment of parents' (or other adults') strengths and weaknesses. Usually children are seen as part of this type of assessment in order to evaluate the parent-child relationship and family dynamics. Usually recommendations about a parenting plan are part of a parenting evaluation. While this type of evaluation can be stressful at times, many parents find that the process of talking about their family and the recommendations themselves help them to view their situation more realistically and reasonably. In many cases parents decide to settle their legal case so they can return to a more calm and relaxed lifestyle. Usual rules of confidentiality do not apply to parenting evaluations since they are Court-Ordered.
Custody Evaluations are also court ordered and involve a full review of individual parental and family factors that must be reviewed in the context of custody litigation. The psychologist makes recommendations to the Court about custody as well as offering ideas for a reasonable and appropriate parenting plan. This type of evaluation is similar to a parenting evaluation, but the main difference is that the psychologist makes recommendations about custody as well as parenting. As with parenting evaluations parents often find these recommendations helpful and may decide to settle their case outside of Court. Usual rules of confidentiality do not apply to custody evaluations since they are Court-Ordered.
Parenting Coordination is a highly effective format for helping separated or divorced parents settle disagreements and reduce conflict so that they can work more cooperatively and comfortably in raising their child. No recommendations are made regarding custody itself although the parenting coordinator often recommends how to deal with other differences that the parents can not settle on their own. Parenting Coordination is almost always done under a Court Order. Because parenting coordination is a forensic activity health insurance plans typically do not reimburse for sessions. Parenting coordination may occur weekly at first (or sometimes more often in a crisis situation). Session frequency varies after that to accommodate the needs of the family.
Psychotherapy is sometimes undertaken as part of a Court Order. Treatment may be individual therapy, family therapy, or couples counseling. While such therapy is part of a Court Order it is treated as any other form of clinical work and insurance may possibly be utilized. Issues that are the focus of therapy may include difficult family relationships, parental fighting, trauma or violence, or helping a child learn to deal with their family situation.
Treatment of Depression and Bipolar Disorders
People seeking help for depression benefit from a thorough evaluation to understand the type of depression and its underlying causes. Sometimes depression results from difficult life situations, including significant losses, past abuse, or relationship troubles. At other times, it results from a biologically-based tendency toward developing depression. Very often, it is a combination of these causes. At times an individual's depression will not look so severe; rather, periods of being "down in the dumps" pervade one's life and lead to a milder and more generalized feeling of being "low." More severe depression may be unipolar, in which a person's mood ranges from normal to low, or it may be bipolar, in which a person's mood varies from high to low. Sometimes a person's mood changes rapidly with no predictable pattern. Whatever the form or cause of the depression, it can take a toll on a person's social life, self-esteem, productivity, and physical health. Psychotherapy is very often helpful in allowing a person to manage or overcome depression. Different types of therapy can be used depending on the individual's situation. Cognitive Behavioral Therapy (CBT) is a common and effective approach to bringing many forms of depression under control. Of course, other types of psychotherapy can also help a person move from feeling depressed and ineffective to more positive and satisfied. These forms of counseling are based more on exploring the patterns in your feelings, thoughts, and relationships—both past and present—in order to learn how your moods turn so negative. Insights from this work can lead to feeling more positively in you personal and work life. You and your therapist will discuss what type of therapy would work best and feel the most comfortable for you. As with the treatment of anxiety, session frequency can vary from weekly or more often to every few weeks. Depending on individual needs, medication can also be helpful along with psychotherapy.
Treatment of Anxiety
Anxiety problems take many forms, from Panic Disorder to Obsessive-Compulsive Disorder to Social Phobia to Generalized Anxiety. Yet all of these difficulties are based on fear. Treatment of anxiety first involves education about the role of fear in our lives and ways that fear can overwhelm us through stress, "nerves," anxious anticipation, stuck thoughts, and avoidance. The good news is that anxiety difficulties are very common and often respond well to treatment. Research indicates that different types of treatment can help alleviate anxiety symptoms. You and your therapist will work together to determine the best approach for you. For example, Cognitive Behavioral Therapy (CBT) is an effective approach for bringing such focused anxiety under control. Other forms of psychotherapy can also be helpful in lifting the painful effects of on-going anxiety. These approaches may involve a more intensive look at how thoughts, feelings, and relationships became connected throughout your life to create patterns of anxiety. With this awareness, work can focus on moving to healthier ways of understanding yourself and others. Anxiety is often coupled with depression, so the therapy is directed to manage both difficulties. Sessions frequency may vary from weekly or more often, but sometimes appointments may only occur every few weeks.Depending on individual needs, medication can also be helpful along with psychotherapy.
Treatment of Post-Traumatic Stress Disorder (PTSD) and Abuse
Individuals dealing with trauma or traumatic experiences often experience significant disruption in their emotional lives, family relationships and marriages, and work productivity. At times they may find their past experiences becoming so upsetting that they start making unhealthy decisions. Some traumatic experiences, including domestic violence, physical abuse, and sexual abuse are especially upsetting since they often involve people thought to be safe and trustworthy. Other types of experiences, like car accidents or work accidents, can also result in daily difficulties. Individuals experience heightened fear or panic feelings at times. They might also experience physical symptoms like a racing heart or have nightmares. Children, teenagers, and adults can all exhibit symptoms of PTSD. Frederick Psychology Center staff can help alleviate these painful effects of trauma. Therapy starts with obtaining a careful understanding of the individual's history, the details of the traumas they experienced, and a sensitive awareness of the ways continuing panic and fear is impacting his or her life presently. The therapist helps the person re-gain control of their life by assisting in the re-integration of the many feelings and thoughts affected by the trauma or abuse. The therapist helps by decreasing the overwhelming feelings of helplessness that arise after abuse or trauma, and works to increase feelings of personal effectiveness. At times, marital counseling, family therapy, or medication consultation are recommended as adjunct treatments.
School Consultation
School is an important part of any child's life and difficulties in school (behavioral or academic) are often a major focus of therapy or evaluation. For that reason, a therapist's willingness to provide case consultation to school personnel when necessary is important.  At FPC, psychologists readily speak or meet with teachers and administrators at a parent's request. Consultations may center around implementing interventions at school, collaborating on a child's specific needs, or simply keeping lines of communication between school and therapist open to facilitate treatment.   Psychologists are also available to participate in IEP or ARD meetings.
A different form of school consultation refers to the development of an ongoing contractual relationship between a school (usually private/parochial) and a specific psychologist who serves as the school's "Psychological Consultant." In that role, the psychologist offers services such as crisis management, education, and consultation regarding classroom management to faculty and staff of the school.
Work/Life Balance
The stress of modern life leads many people away from a healthy, balanced lifestyle. Long hours on the job, office politics, stressful commutes, "fast lane" parenting, little quality time with family, financial strain, too much food and drink, too little exercise, too much TV, too few hobbies --- it all adds up. Unfortunately, sometimes it adds up to worries and bad habits that sap a lot of the joy from life. By addressing a healthy work/life balance in therapy, a person is able to slow down and look at how life could be. Solutions can take shape and lead to real changes when a person sets priorities and pursues a life that makes sense. The problems at work and at home often seem less overwhelming when fully explored and managed through more effective communication, time management, involvement in meaningful activities, and attention to physical, social, and recreational needs. Therapy helps with widening a person's view so he or she can focus on what's most important – then pursue it.